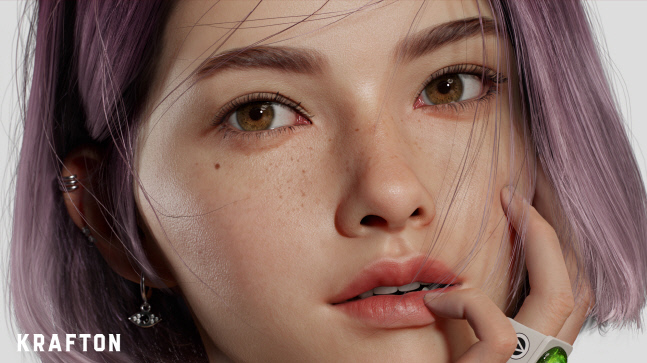 On June 13th, Krafton, the developer of popular online games such as "PlayerUnknown's Battlegrounds," released a teaser image of its first hyper-realistic virtual human named "Ana".
'ANA' is a virtual human that KRAFTON first launched after it officially announced the opening of new business in February this year. From the beginning of the planning stage, Krafton has been committed to researching virtual humans that bring good feelings to everyone globaly, and launched the virtual human 'ANA' created with its technology.
KRAFTON uses Unreal Engine-based "hyperrealism" production techniques to truly embody the sweat and small hair of virtual humans, and has a more realistic appearance than virtual humans made using other technologies.
At the same time, the top-level Face Rigging technology is used, reflecting the movement of the pupils, subtle facial muscles and wrinkles. And 'ANA' also uses Rigging technology on the body to make natural joint movements. On this basis, a unique AI Voice was created using Voice Synthesis technology, allowing 'ANA' to perform and sing like a real person.
With the rise of the meta-universe and the virtual person in recent years, KRAFTON, as a leader in the Korean game industry, has also joined the ranks of developing virtual people, expanding the new business of the game company and attracting the attention of all parties.
Our company is also continuing to pay attention to and learn the latest technology in the industry, providing various types of art outsourcing services and is also committed to providing customers with high-quality VR-related services, and looks forward to the opportunity to have more cooperation with companies in more fields in the future.
---
Post time: Jun-17-2022