Recently, data.ai teamed up with IDC (International Data Corporation) and put out a report called "2023 Gaming Spotlight." According to the report, global mobile gaming is expected to reach $108 billion in revenue in 2023, which shows a 2% recess compared to the revenue from last year. However, it's still significantly higher than the benefit earned by console and PC/Mac games.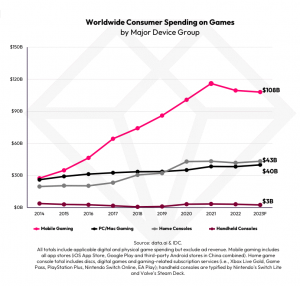 The report highlights that in the first quarter of 2023, the mobile gaming markets in South Korea, Brazil, Turkey, and Mexico showed rapid growth. As for the global revenue distribution in the season, North America and Western Europe accounted for approximately 50% of the total earnings in the mobile gaming industry.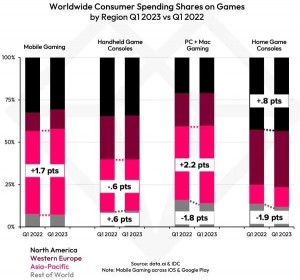 When it comes to downloads, the top genres in the first half of 2023 were racing simulators, sports games, arcade racing, team battles, and idle RPGs. Some popular games in these categories include "Indian Bikes Driving 3D," "Hill Climb Racing," and "Honkai: Star Rail." These games really took off and gained significant traction among players!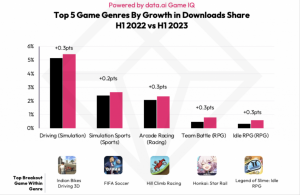 When it comes to making money, games that feature team battles, match-three puzzles, MOBA, luck-based combat, and party tactical competitions top the rank. Some of the hot games in these categories include "Honkai: Star Rail," "Royal Match," "Arena of Valor," "Coin Master," and "Eggy Party." These games have become super popular and are making a ton of money!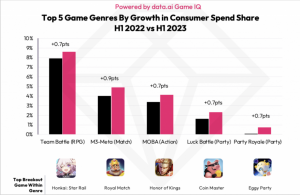 The report highlights the top ten highest-grossing mobile games globally in the first half of 2023. Three games from Chinese companies are among the list, namely Tencent's "Honor of Kings" and "Peacekeeper Elite," as well as miHoYo's "Genshin Impact." Data.ai also recognized "Monopoly Go," "Honkai: Star Rail," "Royal Match," and "FIFA Soccer" as the four mobile games that defined the first half of 2023 in the report.
As we can see, mobile games will keep occupying a large portion of the global gaming market in 2023. RPG and strategy games will continue to rule when it comes to making money, while super casual games will still rock it in terms of downloads.
Sheer will keep evolving together with the industry, constantly updating our team's tech and equipment. We're prepared to tackle any developments in the gaming market and will always deliver top-notch game production services to our clients!
---
Post time: Sep-25-2023